For years cricket fans have seen the best of rivalries between athletes unfold in front of them in the field. But the rivalry between two superstars in the early 2000's was ruled by Pakistan's Shoaib Akhtar, and Australia's very own Brett Lee.
The two express pace bowlers were known for terrorizing lives of the best of batsmen. From body blows, to up rooting the stumps with utmost distain.
The Rawalpindi express scalped a total of 444 wickets in the international circuit while playing for Pakistan and was a 'sheer entertainer' as quoted by Bree Lee himself.
Akhtar was one of those rare commodities in the sport who indulged the audience into the act whenever he charged at the batsmen with big strides as his long hair brushed his face when he launched those thunder bolts off the wicket.
Meanwhile, his counter part Brett Lee who scalped 718 international victims, was more disciplined with the ideal fast bowler's physique and a copy book bowling action. Plenty of young cricketers tried pulling off the Aussie pacer's action just for how complete it had looked.
Brett Lee consistently clocked 150-155 clicks and went to the extent of bowling 160. What separated Lee from Akhtar was his fitness regime.
Shoaib Akhtar banked on giving his all in his first few overs and even went on to the extent of bowling the fastest recorded delivery in world cricket, with a pace of 161 km/ph.
In spite being different in certain aspects, the one commonality which they shared was pace. Both great bowlers were quick and intimidating to say the least and were genuine match winners for their respective nations with the ball in hand.
But as time rolled on, cricket evolved, and the T20 era was upon us, things got harder for fast bowlers who belonged to the same kin and banked on serious pace.
Bigger bats, shorter boundaries, field restrictions, had caused even the faster bowlers to bow down to the belligerence of the modern day batsmen.
Though Fast bowlers were still able to inflict fear in Tests, but were not so effective in white ball cricket. More pace on the bat led to more boundaries.
The time had come for the fast bowlers to evolve as well, and hence reliance on 'lack of pace' was a skill which was being used to counter the batsman's ability to smash the ball to the boundary fence.
However, that seems to have changed until recently, as England's Jofra Archer and India's Jasprit Bumrah entered the Frey of international cricket.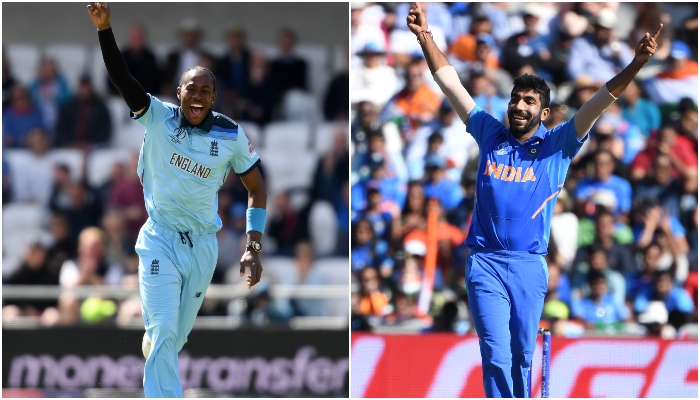 Though both fast bowlers are fresh in their careers, the performances that they've displayed in all three formats of the game has been a rare exhibit of talent and skill. 
Both sets of bowlers have got that sense of excitement from the fans, and belief from their skippers as they consistently bowl close to 145-150 clicks.
Jofra Archer and Jasprit Bumrah in their very short time have given an example of beating the batsman with pace in white ball cricket as well .
As a result of them making batting difficult in the limited overs format, Test cricket has assisted them even more with the swinging red ball and dynamic wickets to bowl at.
Be it Jasprit Bumrah knocking Dean Elger or Marcus Harris on the head in overseas condition, or Jofra Archer concussing a modern day batting genius, Steve Smith in his very first Test appearance for England in the ongoing Ashes.
The duo had an impressive run in the ICC World Cup, with Jofra Archer picking 20 wickets in just 11 games as England went on to lift the ever so valuable trophy, while Jasprit Bumrah's 18 wickets in nine games played a major role in taking India to the semi finals of the tournament.
Archer and Bumrah's pace, intelligence and skill with the ball has sent a statement of being as effective and intimidating of how Shoaib Akhtar and Brett Lee were during their era.
While Jofra Archer might draw parallel's to the Rawalpindi Express due to his big built and fast bowling persona, Jasprit Bumrah's nature of being more tactical and reliance on landing toe crushing Yorkers 'helps him draw significance with the former World Cup winner, Brett Lee.
Funnily enough it's Bumrah's unique action this time which is trying to be impersonated by cricket fanatics.
Though Jofra Archer has played just 16 games for England so far, the Sussex fast bowler has picked 30 wickets and on quite a few occasions has startled the best of batsmen, and has even resulted them from walking off the field.
Two best cases being that of Hashim Amla during the World Cup and Steve Smith in the ongoing Ashes series.
Jasprit Bumrah has been a revelation for India, and has pretty much cemented his spot at the top. His unconventional action integrated with pace, movement, and perfectly executed yorkers has earned him 203 wickets in a 110 games for India.
With both Archer and Bumrah being regulars in the wickets column and striking fear in the batsman's head, the cricket fans of today are once again getting off their seats like they once used to when Shoaib Akhtar and Brett Lee used to charge down the field.
A true cricket lover knows about the real value of a fast bowler when he's able to make the headlines of similar quantity to that of an average batsmen.
So far, wherever Jasprit Bumrah and Jofra Archer have featured, they've made sure to turn a lot of heads and that purely depicts the decisiveness they hold which separates them from the rest.
With both Jofra Archer and Jasprit Bumrah still having plenty of years in their respective tanks, cricket will once again witness a rivalry which completely focuses on the brilliance of two young and fierce fast bowlers with ample fire in their bellies, which means more bad news for those who face them.