The undisputed king of clay who has cemented his supremacy on the red soil and has virtually pulverized every opponent by winning a record number of 12 French Open titles and a total of 18 Grand Slams, despite keeping injuries at bay and surpassing all his arch rivals, the 33 year old Spaniard- Rafael Nadal clearly has no tough opponent to dethrone him in the arena. As an athlete, his artistic court crafts and playing style has made him a phenomenon unarguable at the toughest surface in Tennis. But, a long term debate has been ongoing on who actually could challenge Rafa and his calibre on clay. One name that pops out in every tennis fanatic's mind is Björn Borg. We know that it is totally unethical to compare two legends of different eras but Nadal's spectacular success often rekindles memories of Bjorn Borg.
Swedish former World No.1 who dominated the game in the late '70s is widely considered the most successful player in the Open era and one of the greatest players in the history of the sport. Borg was a rock n roll star draped in tennis clothes who turned out to be a teenage sensation but had a stint career that lasted for only 10 years. He marked himself as the epitome of extraordinary tennis ability and polarized tennis in the 1970s by winning four straight French Open titles and five straight titles at Wimbledon. It is just not easy to find a sportsperson who rose to fame and meteoric heights at a tender age but Borg, an 11-time major singles champion in just seven years (1974-81) left an untouched legacy in tennis history by retiring at age 26.
Recently, in an interview with ATP, Rafael Nadal had revealed his desire to play against Bjorn Borg if he had to choose one among the retired legends.
The Spaniard said, "I would choose Bjorn Borg because all the stories that I heard of his reflex. I would like to have the challenge to play against him." Both these icons share a total of 18 French Open titles with Nadal having the edge over Borg. The duo is thirty years apart in age but their total domination at Roland Garros makes them two of the greatest players of all time. While the game has evolved from Borg's time with changes in rules, racquets, techniques, fitness and playing style it is almost impossible to compare players directly across generations. Although, various aspects of their games including their agility, strengths and their overall playing style can be compared and we make an attempt to silence the debate on, "Who is the greatest all-time champion on clay – The former or the contemporary"?
Borg was the first player to win six French Open singles titles and remained undefeated in French Open finals. Nadal holds the record for the longest single-surface win streak in the Open Era with 81 consecutive wins on clay and a record-breaking 12 French Open wins and still counting. Borg won his first French Open title in 1974 when he was 18 and Nadal did it in 2005 when he was 19 and continued to dominate winning 4 consecutive titles on clay (2005, 2006, 2007, 2008) and the same feat was achieved by the Swedish legend who claimed the title from 1978-1981. So now let's breakdown the strengths and weaknesses of both the prime players and decide who the real King of Clay is?
Mental and Physical: Borg was agile and has tremendous stamina. His movement on the surface was quick and would effortlessly get back to his position. Nadal, however, is one of the fittest athletes in the present generation and pace and strength are his trademarks. While both the players are known for their mental toughness, Rafa has come out to become a champ defying all odds of age claiming the World No. 1 spot at the age of 31 making him the oldest person to finish as year-end number one. Borg, however, had an illustrious career but the constant attention and pressure eventually caused burnout and he stunned the world by retiring at the age of 26. He tried to make a comeback in 1991-93 but failed to win a single match. Nadal has been through obstacles with a repeated knee injury but he's bounced back strong with every revival.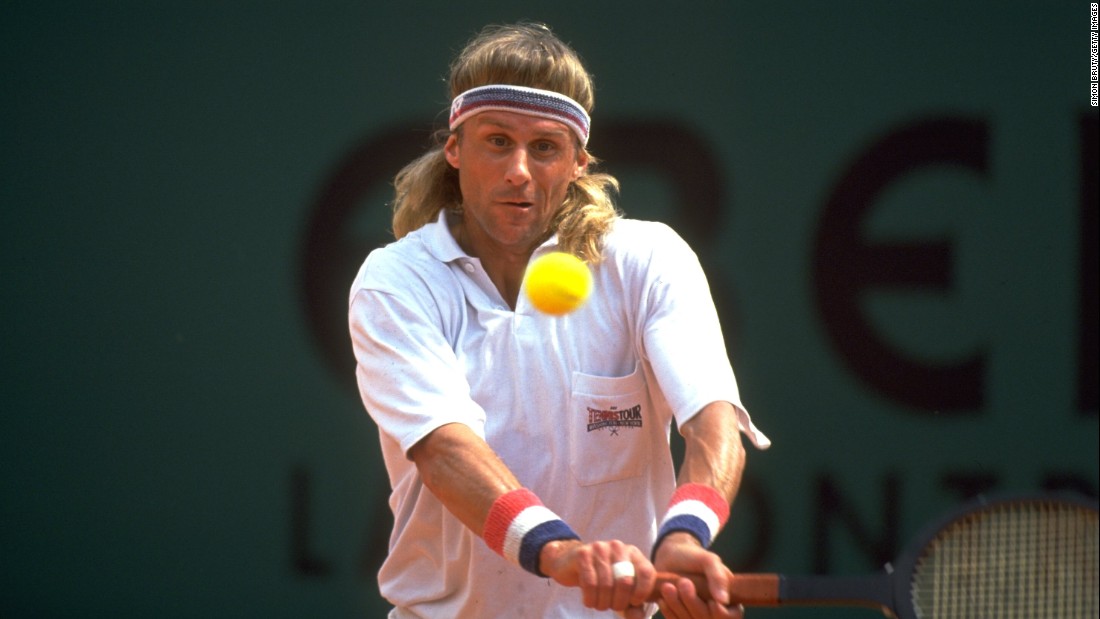 Playing Style: Borg emerged at a time when the game was revolutionizing and he polarized tennis in the 1970s when players had wooden rackets and strings that did not favour baseliners or topspin. Compared to today's baseline duels and serve pace generated by the graphite rackets that help in groundstrokes and more accurate shots. The limited space on the old wooden rackets exceed the size of the sweet spot on some of today's Heads, Wilsons and Babolats, and yet Borg almost never missed any shot. That, along with his speed and his endurance, made it impossible for other (very good) baseliners like Guillermo Vilas to beat him. He also implied the serve and volley approach that helped him outcast arch rivals of his generation.
While Borg's style died out in the early 90s, Nadal is a total player who plays around with pace, strength and technique. He is well aware of his opponent's weaknesses and utilizes his down the line brisk forehand shots. He has the calibre to hit backhands on the run by pushing off his back foot and then stop his body immediately and recover faster to the central position. This advanced technique allows Nadal to hit more powerful backhands when he gets in defensive situations, and also gives him a quicker recovery so he can run down the next ball going wide of his forehand. Although with technology and AI growing with the evolution of the sport, the above-mentioned technique of the Spaniard would give the 2019 Nadal an edge over the 1978 Borg, even if they both played with the rackets and strings used in Borg's era. During the '70s, players generally struggled with 2nd serves and powerful backhand returns and thus this era witnessed Borg having a strange hybrid two-handed backhand. He used a backhand grip and kept a loose wrist on his backswing. As he swung through to make contact, he used his left hand to help the dominant right hand swing through the ball. Just after contact, he would let go of the racket and end the shot with a short one-handed follow through.
Accomplishments & Records: With a short span career, Borg was an 11-time major singles champion in just seven years (1974-81). He won 6 French Open championships, four consecutively (1978-81) and dominated Wimbledon like no other player in his era. He won six straight championships (1881-1886), claiming 5 consecutive titles from 1976 to 1980. He won 89.8% of his major matches and won three of his 11 major titles without losing a set. He also won 3 consecutive channel slams (French and Wimbledon) from 1978-80 and had 14 consecutive victories in major semifinals. While Nadal stands alone in the Open Era as the player with the most clay court titles (59), and holds an all-time record of 12 French Opens, 11 Monte-Carlo Masters and 11 Barcelona titles. He also stands alone with the longest single surface win streak in matches (clay courts, 81) and in sets (clay courts, 50) in the history of the Open Era. He also repeated the channel slams in the year 2008 & 2010 and at present has 11 career titles in his kitty.
Concluding the comparison of different era's and same domination without a head-to-head match between the two greatest clay-court tennis players of all-time would be injustice to square off with a verdict. But analyzing according to the figures, Nadal has an edge being a contemporary icon who has been more highlighted in the media and Borg himself has several times admired the style of play of the Spaniard and termed him the undisputed king of Clay.