Promising Indian young talent, Prithvi Shaw who is believed to be the next-gen Master Blaster has encountered his first hurdle in his international cricketing phase. The lad who made his test debut last year against West Indies and became the youngest Indian to score a ton on his test debut has been handed an 8-month suspension after his urine samples were tested positive for a banned doping substance. The 19-year old who holds the record of scoring centuries in his debut matches of Ranji Trophy and Duleep Trophy equals his idol- Sachin Tendulkar, going by the numbers in his early days.
Shaw- one of the 5 breakout stars in men's cricket in 2018 who had made a potential mark with his impressive international debut and IPL season has been banned from all forms of cricket and that rules him out for India's home series against South Africa and Bangladesh. So let's get to know what exactly happened behind the scene and why this ban is an eye-opener for the rest of the young talents.
The Story: As it looks now and as analyzed by BCCI, the Under-19 World Cup-winning skipper provided a urine sample as part of the BCCI's anti-doping testing program during the Syed Mushtaq Ali Trophy match on 22nd February 2019 in Indore. With subsequent tests, the samples were found to contain Terbutaline, which comes under Beta-2 Agonists of banned substances and is mentioned in the World Anti-Doping Agency (WADA) list. The listed drug is commonly found in cough syrups and Shaw admits to having unintentionally taken the drug when he had a severe cough and cold while playing for Mumbai in the domestic tournament. The same drug that had banned Yusuf Pathan when he was tested positive is not a performance-enhancing drug but the uncautious approach by a professional athlete who doesn't follow protocol and consult authorities before consuming any kind of medicine makes BCCI liable to hand them retribution.
Gentlemen Approach By Shaw: The Delhi Daredevils striker handled the ban with sheer diligence. He put his word out on social media after BCCI announced his retrospective ban starting from March 16 that ends on November 15. He accepted his negligence and fate with all sincerity. "Cricket is my life and there is no bigger pride for me than playing for India and Mumbai and I will come out of this faster and stronger," wrote the 19-year-old lad from Mumbai. The incident is an eye-opener for all the athletes and apart from Shaw, two other cricketers, Akshay Dullarwar and Divya Gajraj were also suspended for the same offence.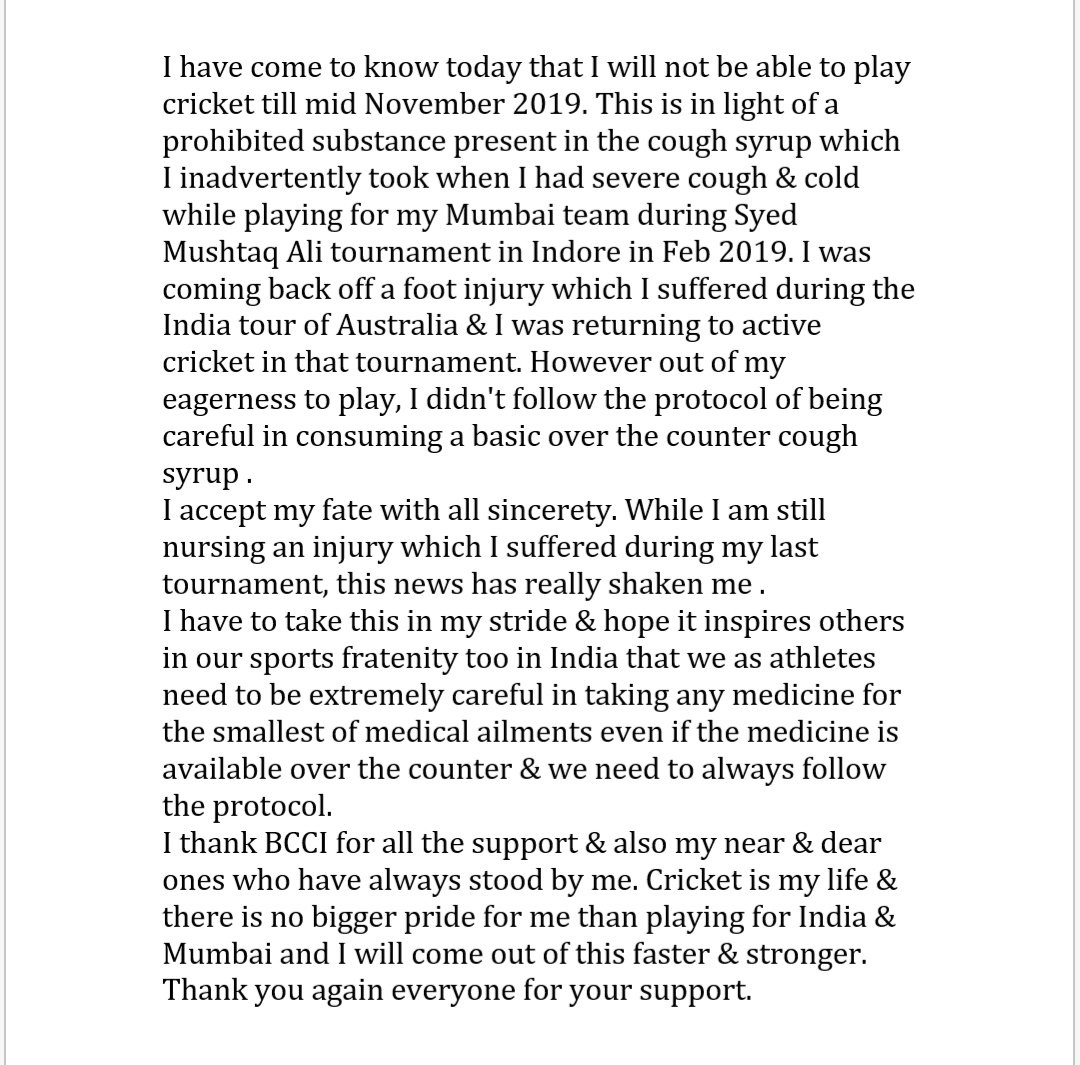 This although is a black mark on his career graph as he also joins the list of other cricketers, including, Shoaib Akhtar, Shane Warne, Andre Russell, Pradeep Sangwan, Upul Taranga, Stephen Fleming and many more for violating the doping rules, but it is his age that justifies his negligence. He is now an example for the youngsters to be more cautious and be extremely careful in taking any medicine for the smallest of medical ailments. We wish him a strong comeback.